Midas Store FAQ



Last Update 12/21/12



Apparel Defective Goods Policy:
Please notify Horizon Promotional Products immediately if the apparel you receive has rips, defects in the fabric, or incorrect sizing on the designer's label.  Damaged apparel items must be returned within 10 business days of receiving goods.  Replacements will be issued only if the damaged items are reported and, returned within the 10 business day period.

Apparel items are made custom, based on your order(s) and, we are not responsible for apparel items that are ordered in the incorrect size.  Please contact us if you have questions regarding sizing charts for particular items.
Back Orders & Partial Shipments:
The apparel items offered on this site have been selected for their quality and availability. We do not sell discontinued items or closeouts. It is very uncommon, but our suppliers do occasionally run low on stock or discontinue their item(s). When this happens, we will promptly notify you, and give you the option of:
A) wait for the item to come back in stock
B) offer a comparable alternative that has available stock, or
C) remove the item from your order.
Partial Shipments occur for two reasons: 1) stock is on back order, or 2) the apparel items ship separate from two different brands.
Cutter & Buck and Clique items ship from our Washington distribution center (FOB WA.
Reebok, Westark, and Dunbrooke apparel ship out from our Missouri distribution center (FOB MO).
An order containing 1 (or more) Cutter & Buck shirts and 1 (or more) Reebok shirts will result in 2 different shipments of apparel. 1 box will ship out from Cutter & Buck's distrubution center, and an additional box will ship out from Reebok's distribution center.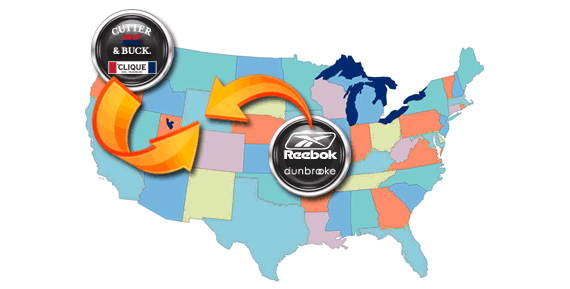 Credit Card Payment:
A credit card is required to process any web orders.  The card is charged promptly after web store check out is completed.

Horizon Promotional Products does not keep any credit card information on file, or in any database.  The information is deleted from our system once the order has been completed.

Credit Card Statement:
Your Credit Card or Banking Institution Statement will display our business name: "Horizon Promotional Products" for each web order placed through the Midas Company Web Store.

Horizon Promotional Products:
Horizon Promotional Products is a company based out of Jacksonville, Florida. Horizon builds, operates, and hosts company web stores for the TBC Retail Group (Big O Tires, Tire Kingdom, NTB, and etc.). We also operate web stores for the Carroll Tire Company, Treadways Corporation, TBC Brands (Multi-Mile, Sigma, Cordovan, Sailun) and more.


Order Status & Order History
Each Web Store user account has the ability to track previous orders. This is our helpful way to assist you with remembering previously ordered apparel items (and sizes). You can also use this tool to track all of your web store orders. We never delete your web store order history.

You must login first to view your new and previous order history. The Order Status option is located in the top right of the web site.

Order Tracking
The first, and best place to check is your e-mail inbox. Do you have an e-mail containing a web order acknowledgment? If yes, you can view the order acknowledgment to obtain a web order number and the date that the order was placed.
If you do not have access to the e-mail account on file, there is an additional way to retrieve your Order Acknowledgement. This option requires logging into your web store account, and clicking the Order Status link (located on the top right of the web site).
If you do not have an e-mail confirmation or are unable to log into your account to look up the web order, please contact us to search for your order.

P.O. Boxes
Horizon Promotional Products ships all orders via UPS (and FedEx). We are unable to deliver goods to any Post Office "P.O." Boxes.

Rush Orders and In-Hands Dates
Please contact us for rush orders. Our distribution centers can, in some instances, expedite the embroidery or imprint/decoration process. Expedited freight may be required for your products to arrive on time for rush orders.

Shipping and Production Times
All items offered on this site are made to order. Horizon Promotional Products does not stock any trinkets or wearables. All items have a production time table (generally 3-4 business days). Production times listed are approximate. Production times do not include shipping transit times.
The default, recommended, option for shipping is UPS Ground. Selecting a faster shipment method does not waive or shorten the time it takes to produce the item.
Expedited freight options (ie. Overnight, and 2nd Day Air) cost more than regular Ground Delivery Method.


Trinkets Defective Merchandise Policy:
Horizon Promotional Products will replace faulty or defective trinkets/promotional items (ie. rips, tears, broken merchandise) within 10 business days of receiving the products.

Where is my Order?:
All promotional items and apparel have production times, plus shipping transit times. Every web order takes several business days to produce and ship; before arrival of product.
Contact us if several business days have passed, and no items have arrived. Please have your e-mailed order confirmation or login to your account to retrieve your web order number.